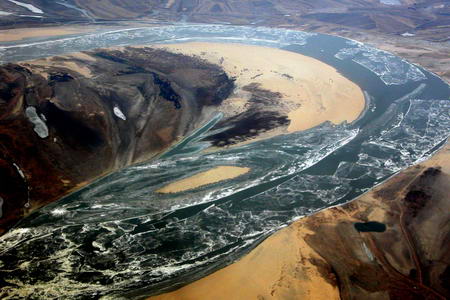 Khabarovsk. December 5. (Interfax) - In the wake of a Chinese chemical plant explosion that sent a toxic spill moving towards Russia, the Russian Emergency Situations Ministry said Saturday the environmental situation in the Amur River region is still stable as the slick continues towards the area.
Urgent measures taken by Russian services after an accident at a chemical plant in China's Jilin province resulted in toxic chemicals entering the Songhua (Sungari) River, a tributary of the Amur, give grounds to hope that there is no threat to the population of the Khabarovsk territory or the Jewish autonomous region of Birobidzhan, the ministry said.
About 150 tons of absorbent carbon were to help with the spill delivered to Khabarovsk from China earlier on Saturday, and about 30 tons were transported to Khabarovsk from Perm aboard an Il-76 transport aircraft belonging to the Russian Air Force.
Water from the Amur River is being tested regularly. Twenty samples have been taken in the village of Nizhneleninskoye, 276 kilometers from Khabarovsk, from near to Vinny Island, 200 kilometers away and from Nizhnespasskoye, 70 kilometers away, in the past 24 hours.
The tests did not show any benzene or nitrobenzene in samples taken on Friday, the center said.
In addition, rescue teams from the Far Eastern regional search and rescue division of the Russian Emergency Situations Ministry have examined the area near Khabarovsk water supply intake stations to determine spots suitable for drawing water samples.
China has also permitted the posting of a team of Russian experts on the left bank of the Songhua River to test the quality of the water. The test results will be sent via satellite communication systems to the Emergency Situations Ministry in Nizhneleninskoye and on to the crisis center in Khabarovsk.
The Kazakevichevo and Pemzenskaya distribution stations will be blocked to prevent polluted water from entering the water intake station near Krasnaya Rechka.
Three mobile teams are also visually monitoring the water and are conducting organoleptic tests of fish between Khabarovsk and Kazakevichevo, Khabarovsk and Nizhnespasskoye, and Khabarovsk and Yelabuga.
The first samples of fish were sent to a veterinary lab in Ussuriysk on November 28.
Komsomolsk-on-Amur and Amursk authorities have complied a list of facilities that should be granted priority status for the supply of fresh water and planned a schedule for supplying water to the population. Reserve water supply sources have also been prepared, it said.
After the toxic slick passes Khabarovsk, the machinery used for supplying fresh water will be transferred to Komsomolsk-on-Amur and Amursk, it said.