Nation needs daily pollution fines, official
(Reuters) via Chinadaily
Updated: 2006-10-08 09:21
China should slap daily fines on firms that pump untreated waste into lakes and rivers, because current penalty limits make long-term pollution profitable, an official was quoted on Saturday as saying.
Normally, fines for pollution are capped at 200,000 yuan ($25,300) regardless of how long a factory ignores pollution regulations, China Daily said.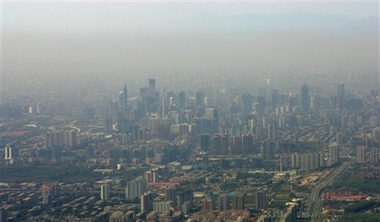 A layer of smog hangs over central Beijing, as seen from a plane Wednesday, October 4, 2006. Severe pollution is increasingly sparking unrest in rural areas, where the environmental has all too often been sacrificed for profit -- worrying the government and prompting repeated promises of cleanups. [AP]



China's per-capita water resources are less than a third of the global average and falling, and its problems are compounded by chronic pollution, waste and poor management. Around 300 million people lack access to safe drinking water.

A daily charge would give companies an economic incentive to clean up their waste, the paper quoted Mao Rubai, chairman of the Environmental and Resources Protection Committee of China's parliament, as saying.

"The punishment should be calculated from the day that a factory is found guilty of pollution discharge until the day its emissions meet environmental protection requirements," Mao said.

His views were backed by a study by China's State Environmental Protection Agency, which has suggested daily fines of 40,000 yuan up to 100,000 yuan, the report added.

More than one quarter of the water in the Yangtze River, China's longest, is so polluted that it cannot be treated to make it drinkable. Most of the Yellow River -- the cradle of Chinese civilisation -- is not fit for drinking or swimming either.

Beijing is currently looking into revising its Clean Water Act, which came into force in 1984, the paper added.