Oil spill in Songhua River under control
(Xinhua)
Updated: 2006-09-24 09:29
BEIJING -- An oil spill in the Songhua River has been brought under control and will not threaten drinking water in Harbin, capital of northeast China's Heilongjiang Province, state authorities said Saturday.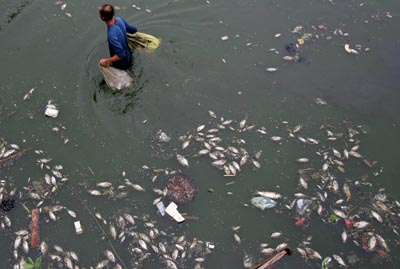 A man collects dead fish from a polluted river in Haikou, southern China's Hainan province, September 19, 2006. China has been hit by more than 130 water pollution spills nationwide since a toxic slick turned taps off for millions along the Songhua River late last year, a rate of one every two or three days, state media said on September 11, 2006. [Reuters]
A visible greasy slick in the river near the Songhuajiang Bridge was discovered Friday afternoon, the State Environmental Protection Administration (SEPA) said in a press release.
The administration sent out a working team to the spot for pollution control after it received report of oil leak early Saturday morning.
The provincial government took immediate measures such as using activated carbon to absorb the pollutants and building a blocking belt in the downstream to protect the water in the river and surrounding ecological environment, the administration said.
By 4 p.m. Saturday, the oil substance had been completely decomposed in the downstream area and the water quality recovered.
Primary investigation showed that the oil leak could have been caused by the diesel oil discharged from passing ships, the SEPA said.
Three suspected ships are now under detention for investigation.
Environmental departments would keep monitoring the Songhua River to make sure it is not polluted, the SEPA said.

Technorati Tags:
china
,
songhua river
,
oil
,
spill