Pollution increases in first half
(China Daily)
Updated: 2006-11-22 07:53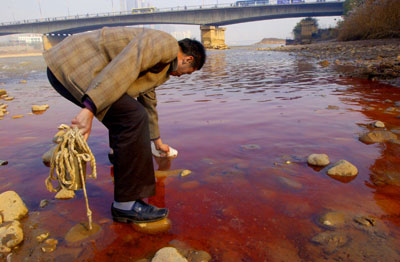 A man with the local environmental protection department collects sample from the Lanzhou section of the Yellow River in Lanzhou, capital of Northwest China's Gansu province November 21, 2006. The section of the Yellow River turned red and the cause of the pollution, covering a perimeter of two kilometers, is under investigation, local media reported. [Newsphoto]



The relentless effort to increase the country's gross domestic product (GDP) led to an increase in the discharge of major pollutants in the first half of this year, according to the country's leading environmental watchdog.

The State Environment Protection Administration (SEPA) announced the findings in a summary of its evaluation of the country's overall environment, which the organization posted on its website. The summary covers activity in the first half and third quarter.

The quality of the country's overall environment remained unchanged or deteriorated in some areas, the report said.

As the country notched up a GDP growth rate of 10.9 per cent in the first half of the year, it also generated larger volumes major pollutants, the release showed.

For example, China produced more than 12 billion tons of industrial waste-water in the first half, up 2.4 per cent from the same period last year.

The chemical oxygen demand (COD), a major index of water pollution, increased by 3.7 per cent, while emissions of sulphur dioxide increased by 4.2 per cent in the first half.

Acid rain, which already affects almost one third of the nation's territory, remained unchecked. The report singled out East China's Zhejiang Province, where nearly all rain in the cities monitored for pollution was acidic.

The report attributed the increasing volume of pollution to the country's industrial structure. It said that food-processing, paper-making and chemical plants accounted for more than 80 per cent of the increase in COD.

The report also attacked some local governments, saying that only 30 per cent to 40 per cent of public projects had undergone environmental evaluations before receiving approval.

The release's findings bode ill for the country's goal of reducing energy consumption per unit of GDP by 20 per cent, and the discharge of key pollutants by 10 per cent within the time frame of the 11th five-year plan (2006-10).

The country has already failed to reach some of the major environmental objectives contained the 10th plan (2001-05).

In September, the SEPA announced that pollution had inflicted economic losses of 511.8 billion yuan (US$ 64 billion) on the country in 2004, representing about 3 per cent of the GDP that year.

"It is almost impossible to reduce energy consumption within a short period while experiencing such a high economic growth rate," Lu Zhongwu, an expert at the Chinese Academy of Engineering, told China Daily at a meeting on November 11.

Coal output grew by 12.8 per cent in the first half of this year. Coal-fired power plants emit greenhouse gases.

Lu called for more oversight of the high GDP growth goals set by local governments. He said some local officials seem to place economic growth ahead of everything else.
Technorati Tags:
china
,
pollution