Qinghai-Tibet railroad no harm to environment
(chinadaily.com.cn)
Updated: 2006-07-06 11:51
The newly launched Qinghai-Tibet Railway will certainly bring a lot of travelers to Tibet, but it won't have a great impact on the local environment, Qiangba Punco, Chairman of the Tibet Autonomous Region, said at a press conference in Lhasa on July 4.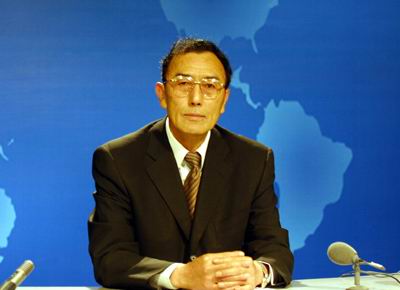 Qiangba Punco, Chairman of the Tibet Autonomous Region, delivered a speech on the new Qinghai-Tibet Railway in Lhasa on Tuesday. [Xinhua]
The tourism industry will become Tibet's pillar industry because of the new railroad, the Chairman said. As a smokeless industry, tourism could greatly stimulate the development of correlative industries, but will have little impact on the region's ecosystem and environment.
In 2005, a total of 1.8 million visitors came to tour Tibet's high altiplano, generating nearly 2 billion yuan in revenue.
The Travel Bureau of the Autonomous Region predicted that there would be about 5,000 people arriving in Tibet every day after the railroad was completed, three or four thousand of whom would be arriving by train.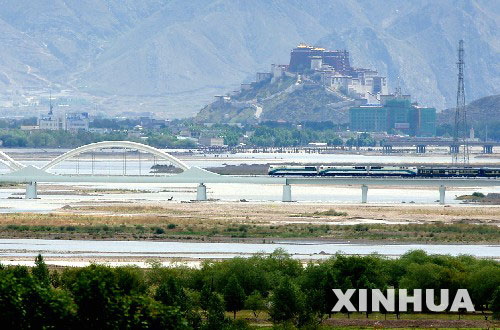 The first train to depart from Lhasa passes by the Winter Palace of the Dalai Lamas on a bridge over the Lhasa River on July 1. [Xinhua]


A study predicts that the annual number of travelers to Tibet will grow to 5.28 million in 2010, generating revenue of 5.8 billion yuan for the region.

Qiangba Punco pointed out that Tibet's ecosystem was drawing the attention of the whole country, with many citizens expressing concerns about its preservation now that the new railway has been launched.

The central government has taken a series of measures to protect Tibet's frail environment, including the construction of the National Environmental Safety Defense for the Tibet Altiplano,which will cost 38.7 billion yuan.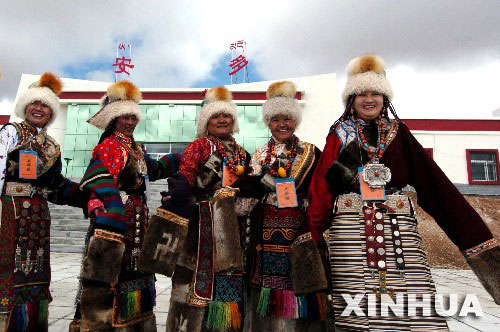 Local residents dressed in traditional Tibetan clothes dance in front of Anduo railway station to celebrate the launch of the Qinghai-Tibet Railroad on July 1. [Xinhua]


Besides the tourism industry, trade and social development will also be promoted after the rail route has linked Tibet with other parts of China. Local residents and Tibetan herdsmen are among those who will benefit from it.

Commodity prices in Tibet have traditionally been much higher than in the interior of China because of the high cost of transporting goods such a long distance. By reducing the cost of transportation, however, the new railroad will cause commodity prices to drop significantly.

The railway will accelerate the integration of Tibet's economy into the market of Eastern China and create more job opportunities as well.

A Ministry of Railways official said the Chinese government is planning to build three more railway lines in Tibet over the course of the the next 10 years as extensions of the newly-completed railway

Technorati Tags:
china
,
tibet
,
railway
,
environment