Film crew to be fined for damaging environment
(AFP) Via Chinadaily
Updated: 2006-05-17 10:02
Related: Filmmaker destroys pristine Shangrila
Filming ban aims to protect scenic areas
Filming said to trash Shangari-La lake

China will fine the crew of the country's most expensive movie, "The Promise" by Oscar-nominated director Chen Kaige, for damaging the environment in an area of outstanding natural beauty, state media said on Wednesday.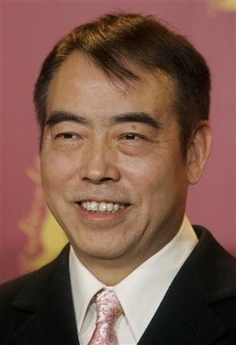 Chinese director Chen Kaige poses during a photocall to present his competition film 'The Promise' at the 56th Berlinale International Film Festival in Berlin February 12, 2006. [Reuters]
The producers neglected to carry out an environmental impact report and did not apply for permission to build roads and buildings around Bigu Lake in the southwestern province of Yunnan, the Beijing Youth Daily and other newspapers reported.
Though most of the garbage at the site has now been cleaned up and some buildings demolished, about 100 concrete pilings are still standing, the newspaper said.
It will also take some time for marshland areas around the lake to recover, it added. The paper did not say how much fine will be imposed on the film's crew.
"China's current environmental protection laws are not yet perfected, and there is a lack of standards or guidelines for fines for damaging the environment," the newspaper quoted a government environmental watchdog official as saying.
Producer and director Chen Kaige's wife, Chen Hong, has rejected the charges, saying the crew had left "enough money" for the local government to deal with the aftermath, according to state media reports last week.
The film, part love story, part kung fu epic, opened in Chinese theatres in December and was nominated for a Golden Globe as "Master of the Crimson Armor," its US title.
Chen made his debut on the world stage with his 1993 hit "Farewell My Concubine." "The Promise" is the most expensive film in Chinese history, with a budget of US$35 million, and was China's official entry in the best foreign film category at the Academy Awards in March.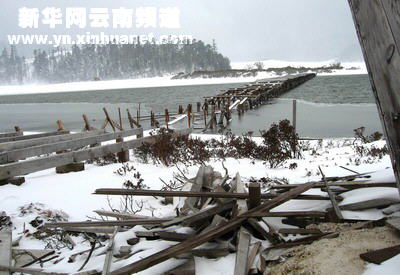 The picture shows a dilapidated wooden bridge that crosses the Bigu lake in Shangrila after the shooting of "The Promise", in Southwest China's Yunnan Province. Early this week, Vice-Minister of Construction Qiu Baoxing criticized the crew that filmed "The Promise" for damaging the pristine environment at Bigu Tianchi in Shangrila County [Xinhua]

But it opened to mixed reviews at home, with the China Daily calling it a "lame movie with more dazzling special effects but a less convincing, less interesting story."