Lake's swans stay away as pollution bites
By Sun Xiaohua (China Daily)
Updated: 2006-01-03 06:32
RONGCHENG, Shandong: In 1991, more than 6,000 swans came to Rongcheng Lake in East China's Shandong Province to spend the winter, but this year the number has dropped to just 1,200.
Yuan Xueshun, head of Rongcheng Whooper Swan Protection Association, has engaged in the protection of swans for nearly 30 years.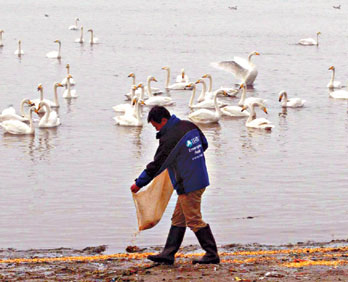 Sun Quanhui, an expert with the International Foundation for Animal Welfare, spreads corn grains at Yandunjiao, one of the swan habitats. [China Daily]
"It is not an issue of swan protection, but of swan survival," said Yuan.
Deng Jia, a press photographer agrees.
"I first came to Rongcheng in 2001 to take pictures of the swans," he said.
"Swans used to fly over my head on the street. But now it is hard to see any of them."
This winter has been especially tough for the swans, not only because of record snowfalls, but also bird flu.
Fears over a possible outbreak have made local residents drive away the swans, disrupting the bird's normal life, Yuan said.
In good weather, Yuan goes on his food distribution mission every two days. In snowy days, he does it every day.
He spreads corn grains and Chinese cabbages. "Swans like sweet, crisp and fresh food," said Yuan. "I want to feed them apples and small fish or shrimp, but I don't have enough money."
Yuan has already been lucky enough to get help from local people, who donated more than 3,000 yuan (US$370) and 7 tons of corn to him.
Last year, International Foundation for Animal Welfare (IFAW) helped him with 10,000 yuan (US$1,233) to buy foodstuffs, and this year they plan to give even more.
"The food I provide can only serve as a supplement for the swans' daily menu," Yuan said. "Their major sources of food still come from nature."
However, the natural environment in Rongcheng is deteriorating.
In the harbour of Mashanwan, about 70-odd swans were playing on the frozen lake, while the rest nibbled on small pieces of wheat seedling from under the thick snow.
One swan, left behind by the others, was limping painfully, with one of its legs obviously hurt.
"I have watched this injured swan for a month," Yuan said. "Its partner might have already died. But with enough food, it is likely to recover."
"Among those swans, nearly half are under aged," said Sun Quanhui, an expert with the IFAW.
These swans are 1 or 2 years old. "It is hard for them to find proper dwelling places and enough food," Sun said. "It is also hard to tell whether or not they can pass through the harsh winter."
The port of Yandunjiao, one of Yuan's places for leaving corn grains, is full of garbage left by local people, such as plastic bags, abandoned shoes, rotten vegetables and even a dead cat.
"The most harmful things are outdated medicines, pesticide and rat poison," said Yuan. "They can kill swans."
Yuan has tried to persuade local villagers not to throw the waste into the sea.
"But it is a habit of the villagers for years," said an official of the villagers' committee.
"We set the dustbins on one side of the village, but people do not take the trouble to go there."
Near the waterside, a resort has been built for attracting tourists to come to watch swans.
"The buildings and human activities might scare the swans, if the distance between them is too short," Sun said. "And the waste from the resort will pollute the swans' drinking water source."
Also in the area there is a power grid. "The height of cables is similar to the swan's flying height. It is easy for swans to fly into cables."
What is more, shrimp and sea cucumbers are grown in the reserve. "At night, the fishermen use searchlights to stop thieves and swans. This strong light influences their sleep patterns," Yuan said.
"I am afraid that at the current speed of reduction, no swans will come to Rongcheng for winter in the near future."

Technorati Tags:
china
,
swan