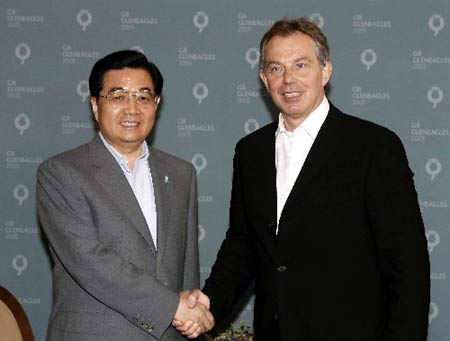 By Katherine Baldwin
LONDON (Reuters) - Britain and China will seek this week to expand cooperation on cleaner technologies to tackle global warming during a state visit to London by Chinese President Hu Jintao.
Beijing, like Washington, rejects targets-based approaches to climate change like the Kyoto pact and British Prime Minister Tony Blair knows he must focus on developing less-polluting ways to burn coal and on pursuing alternative power sources with China.
Blair wants to encourage China to take a lead among developing countries ahead of a United Nations climate change conference in December in Montreal, British officials said.
Trade, China's human rights record and its growing influence in tackling issues such as the nuclear ambitions of Iran and North Korea will also be on the agenda of Hu's visit, officials said.
Britain is Hu's first stop on a trip that will take him to Germany, Spain and South Korea.
He will push for an end to a European Union arms embargo but no breakthrough is expected. The ban was imposed after China's suppression of the 1989 Tiananmen Square pro-democracy protests.
Lavish ceremony will dominate the two-day London visit. Hu will attend a state banquet with Queen Elizabeth and some of London's famed landmarks are expected to be illuminated in red.
But activists demanding that China end its half-century occupation of Tibet have said they will protest at every stage.
The visit is the first to Britain by a Chinese president since that of Hu's predecessor Jiang Zemin in October 1999, when police angered rights activists by breaking up demonstrations over Tibet.
Amid reports police are being ordered to keep protesters away, Blair told reporters on Monday: "People are perfectly entitled to wear Free Tibet T-shirts or anything else."
At talks with Hu on Wednesday, Blair will discuss growing economic and trade ties.
Trade tensions between the EU and China flared earlier this year as Chinese textile exports surged, forcing a new limit on Chinese sales to the bloc until 2008.
Hu's tour comes at a time when China is particularly active on the international stage. Beijing hosts six-nation talks on North Korea's nuclear crisis program next week and plays host to U.S. President George W. Bush from November 19.
"We will discuss ... the current security preoccupations in the world and how we co-operate better on the (United Nations) Security Council," Blair said.
Blair, who visited Beijing in September for an EU-China summit, has put tackling climate change at the top of the agenda for his presidency of the Group of Eight rich nations and of the EU, which both end in December.
He has yet to achieve any major breakthrough and environmentalists last week accused him of losing his nerve in the face of opposition from the United States, China and India when he said emissions targets made some people "very worried" and called for a "more sensitive set of mechanisms."
China, Australia, the United States, India and South Korea have united in a regional pact on greenhouse emissions for when Kyoto expires in 2012, focusing on the use of new technologies.
Britain and the EU are helping China to develop a power plant that uses technology to capture carbon dioxide from the burning of fossil fuels and store it underground.