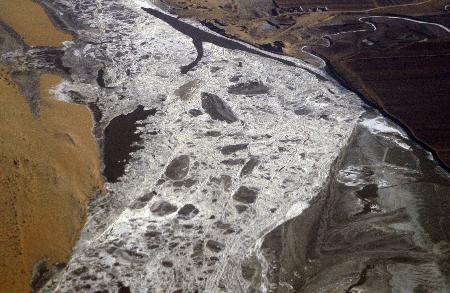 SIFANTAI VILLAGE, China, Nov. 26 - Liu Shiying lifted the metal cover off the clay cistern in a corner of the bare kitchen and lowered a tin ladle into what remained of her water supply. Then she raised a scoop to her mouth.
"Do you think it smells?" she asked on Saturday, not taking a sip. "We're still drinking this. It is our only choice."
Ms. Liu lives in one of the dingy villages on the outskirts of Harbin, the provincial capital whose water supply had been shut off for four days to prevent contamination from a chemical spill that dumped a huge tide of pollution into the city's main water source, the Songhua River.
But on Saturday, as Harbin's four million residents learned that water would be restored by Sunday night, rural residents like Ms. Liu in the villages beside the Songhua got no such good news. Isolated and reachable only by rugged, dirt roads, these villages depend on underground wells or the river itself for drinking water. And as the pollution passed by, many villages never got the boxes of bottled water delivered to major cities like Harbin.
Environmental officials announced that the 50-mile slick of pollution had washed past Harbin by Saturday, clearing the way for officials to prepare to restart the water system. Prime Minister Wen Jiabao arrived in Harbin at midday to meet with city officials and to reassure local residents who had endured nearly a week with no running water.
[Later on Saturday, Mr. Wen issued an apology to Russia, into which the Songhua flows, for the spill, The Associated Press reported. The chemical slick is expected to reach there in about two weeks.]
Du Yuxin, the Communist Party secretary in Harbin, said the city had not received any reports of poisoning or other health-related problems from the spill, state news media reported. Mr. Du said local officials were consulting with China's Ministry of Construction to ensure that the system of underground water pipes could be safely reopened without risk of contamination. He predicted that water would be restored by 11 p.m. on Sunday.
"It is an urgent task to resume water supply," Mr. Du told the New China News Agency, "and we have been executing a detailed plan regarding resumption of water supply."
The pollution slick started on Nov. 13 after a petrochemical plant explosion spilled 100 tons of deadly benzene and nitrobenzene into the Songhua River. The factory is located in Jilin City, more than 200 miles upstream from Harbin, and the dangerous slick began steadily moving downstream. But factory executives and Jilin officials initially denied any pollution problems and waited for nearly a week to inform neighboring Heilongjiang Province, where Harbin is located.
Officials in Harbin also initially failed to inform residents of the pollution threat, announcing instead that the water system would be shut down for routine repairs. But that notice set off rising panic and wild rumors, including growing speculation that the local government had detected signs of an earthquake. Harbin officials responded with a new announcement confirming the chemical spill.
Environmental monitoring posts around Harbin found that pollution levels in Songhua had dropped almost to normal on Saturday as the slick moved past the city. But it is unclear whether the government plans extensive testing and cleanup efforts for the wells that supply the villages beside the river. Ms. Liu said the main well in Sifantai was about 100 yards from the Songhua. Several villagers said they were worried about contamination.
"We're concerned that we are so close to the river," said Tao Yunzhi, who lives in the village. "The polluted water gets in the well."
Ms. Liu said the local water had become cloudy in recent weeks and she could not tell whether it had changed, or become contaminated, as the pollution flowed by. On Friday, village officials finally turned off the faucets from the wells, but people continued drinking well water stored in pots and cisterns.
"No one was sending any water to us," Ms. Tao said. "We watched on television all the city people getting water delivered to their doors. Who cares about us village people?"
Earthquake Kills at Least 14
BEIJING, Nov. 26 (Agence France-Presse) - At least 14 people died, hundreds more were injured and thousands of houses collapsed Saturday when a magnitude 5.7 earthquake struck near Jiujiang, a popular tourist destination in east China, officials said.
The quake, which hit at 8:49 a.m., was felt in cities hundreds of miles away, according to the China National Seismic Observation Network.